MVP Club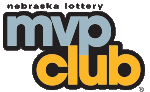 Members of the Nebraska Lottery MVP Club receive special information on new games, contests, and promotions, and have access to updates on research and surveys. Benefits of MVP Club membership include the chance to win free Nebraska Lottery tickets, cash, merchandise, and trip prizes. Members also enjoy player perks like:
A free game coupon just for joining the MVP Club;
Free online games;
Special "members only" contests;
Tools to check your tickets and manage your favorite games online; and
Email alerts for games, contests, and promotions.
You must be at least 19 or older to participate in the MVP Club. It's FREE and there's no obligation for you to do anything except have fun... and win! Sign up for the MVP Club and take advantage of all the benefits the MVP Club has to offer today!